The QG Welcomes Olukai Footwear
The QG Welcomes Olukai Footwear
Just arriving this spring, is OluKai as part of our footwear collection. OluKai's is a traditional and community based brand, whose casual style features high quality construction, and a blend of natural materials and modern synthetics. The QG's shoe program continues to focus on superior quality and arch support and compliments our two other amazing shoe brands, Redwing boots and Alden shoe company.
OluKai's "Wet Sand Principle" makes the footbed of their shoes and flip flops uniquely comfortable, and is the center of their design philosophy. Inspired by the feeling of standing on a sandy beach, the OluKai "Wet Sand Principle" offers full support along the whole footbed of the shoe. The heel of the footbed cups the back of the foot, while the arch is gently supported, and the toe of the shoe is flat and relaxed.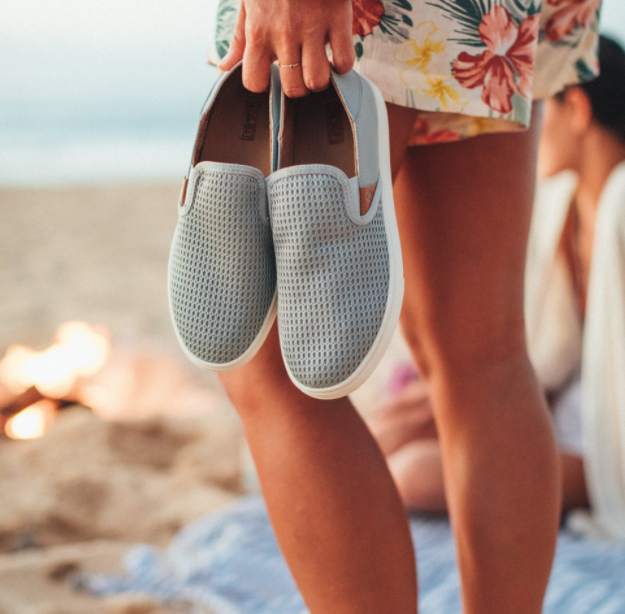 The material for each shoe is selected for practicality and comfort, as well as it's rich tones and colors. Textiles closest to the skin are soft and comfortable, encouraging a sock-less approach for the summer, while textiles on the sole are selected for durability and slip resistant qualities. 
One of the unique features of OluKai shoes is their heal design which folds forward for slip on capability or worn as a traditional shoe as shown below.
All these qualities of the OluKai shoe makes them perfect for sailing, the beach, the boardwalk, or even at home during this stay at home order. We look forward to starting our collection with the Nohea Moku and the Alapa Li. Let us know if you have a favorite or would like to do a special order by emailing us at hello@theqg.com.