Custom clothing details revealed
Custom clothing details revealed
Our clothier and stylist of our custom clothing department will be taking a deep dive and breakdown what make "custom", "made to measure" or bespoke clothing so special. QG is featuring Pick Stitching or AMF Stitching which refers to the small subtle stitching around exposed edges on suit lapels and pockets. Pick stitching adds an extra "finished" look to a custom suit and can be designed to blend seamlessly into the suit or can have a more exaggerated or contrasting stitch which can add to the overall appeal of the garment.
The acronym AMF refers to the machine that creates the stitch, manufactured by the company American Machine and Foundry. This machine is extremely slow and using AMF takes a very long time. Pick stitching is also a sign of a handmade garment in which the AMF machine was to mimic, and pick stitching can be requested to be performed by hand along with all of our custom clothing we provide at QG.
Floating Needle System was developed by AMF Reece to produce a "true hand stitch". The machine uses a double pointed needle which has an eye in the middle. By the use of two needle bars, one above and one below the work plate, a length of thread is passed through the material duplicating the hand stitch with flawless consistency.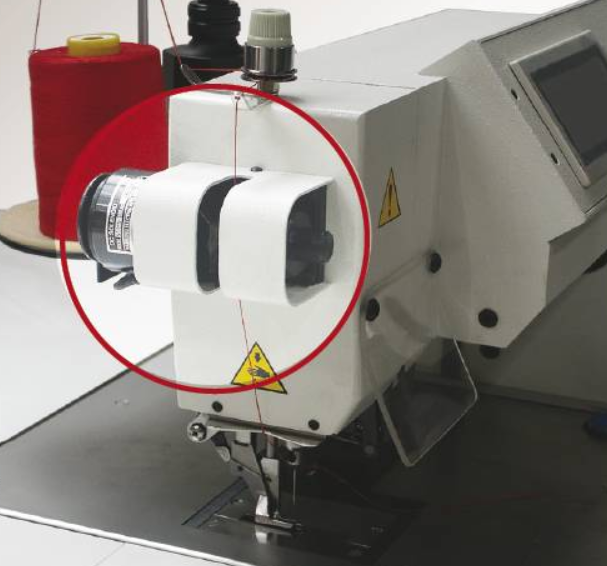 The stitch keeps the jacket's interlining in place and in sync with the outer fabric. In addition this type of stitching keeps the edges of the fabric flat and clean and prevents them from rolling or curling.
The Pick or AMF Stitching can be two millimeter or six millimeter away from the edges of the jacket.
Pick stitching is available on pants/trousers and outerwear/topcoats as well, and this feature available complimentary with most of QG's custom package options.